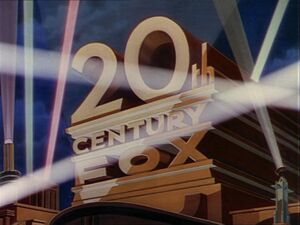 20th Century Fox Film Corporation (or simply 20th Century Fox) was a motion picture production company founded in 1935 out of the merger of Fox Film Corporation (founded in 1915) and 20th Century Pictures, Inc. (founded in 1932). Fox distributed the feature length movie based on William Dozier's ABC television series in 1966. In the early 80's, Warner Brothers purchased the rights to use the singular name, Batman, as a film title. Fox was legally forced to change the old movie's title to Batman: The Movie on all home video releases. The 1989 film is currently the only feature permitted to be titled simply, Batman.
Popular franchises created under the Fox umbrella include, but are not limited to, Planet of the Apes, Alien, Predator, Die Hard, Home Alone, Ice Age, Avatar, X-Men and Rio.
In 2019, 20th Century Fox was purchased and became a subsidiary of the Walt Disney Company. The company now uses the business name 20th Century Studios.
References
Community content is available under
CC-BY-SA
unless otherwise noted.