Aion is the son of Batman and Catwoman.
History
After his older half-brother Damian became the new Batman, Aion grew resentful of him, believing himself to be Bruce's true heir to the cowl. He created the Aion identity to antagonize Damian.
Powers and Abilities
Abilities
Hand-to-Hand Combat (Advanced)
Martial Arts
Stealth
Weaponry
Paraphernalia
Weapons
Appearance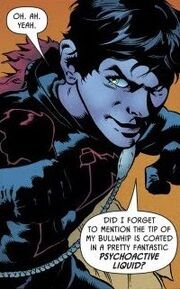 Aion is a young man with black hair and green eyes.