Batdiscs are non-lethal projectiles fired from the sides of the Batmobile. The discs are made of a heavy, rubbery material intended for riot control tactics and bear a silver Bat-insignia at the center.
History
Batman fired a pair of Batdiscs at two Red Triangle motorcyclists that were attacking civilians in Gotham Plaza.
Appearances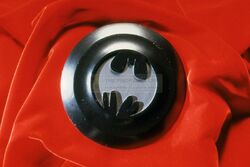 Behind the Scenes
The Batdiscs were designed by Tim Flattery. The Batdiscs were utilized heavily in the films merchandising by licensees, due to their frisbee-like quality. McDonald's called the multicolored lids on on their collector cups Batdiscs, and doubled as frisbees.
Gallery
Merchandise