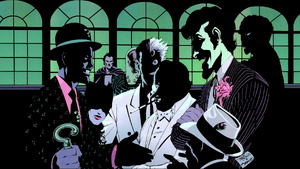 The Rogues Gallery is the term for the various villains that Batman has faced over the years. These have ranged from costumed villains like the Joker, Poison Ivy and Two-Face, plainclothes crime bosses like Rupert Thorne, Carmine Falcone and Joe Chill to lesser known foes such as Magpie, Killer Moth and Humpty Dumpty. As enemies of the Batman are often sympathetic or otherwise morally complex, he is also known to be enemies with anti-heroic allies such as Catwoman, Azrael or the Red Hood.
Central Rogues Gallery
Primary Antagonists
Characters consistently appearing as major-antagonists and predominate members of the Rogues Gallery.
Secondary Rogues
Major antagonists who are inconsistently featured in the main lineup and/or are of comparatively lesser status to their primary counterparts.
Recurring Rogues
Antagonists noteworthy for recurring appearances or notable of some influential/cult-status but who are not consistently featured prominent members of the rogues gallery
Alternate Reality/Inter-dimensional Rogues
Enemies of Batman hailing from alternate-realities or higher states of dimensional existence. Often this category includes versions of Batman from parallel timelines, and higher-beings with power over reality comparable to that of a god.
Mobsters and Plainclothes Criminals
Villains of Batman who are more realistically portrayed gangsters, professional-criminals, crime-families, hit-men and crooked businesspeople rather than the more theatrical core Batman villains.
Police and government officials
Allies/Rivals
Characters who predominately operate as heroic vigilantes but who are known to serve as enemies to Batman due to shared-history and/or ideological differences.
Animal adversaries
Possible Future Rogues
Villains appearing in stories set within future timelines such as Batman Beyond or The Dark Knight Returns.
Mary Michaels
Stuart Lowe
Groups
Members of the international eco-terrorist syndicate, the League of Assassins (sometimes referred to as the League of Shadows).
Foes of Lesser Renown
Assorted enemies, typically of minimal mainstream appearances, henchman occupations, and/or an obscure joke-status.
Gallery