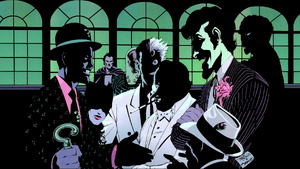 The Rogues Gallery is the term for the various villains that Batman has faced over the years. These have ranged from costumed villains like the Joker and Two-Face, crime bosses like Rupert Thorne,Sal Maroni, and Carmine Falcone, to lesser known foes such as Magpie and Humpty Dumpty.
Central Rogues Gallery
Primary Antagonists
Secondary Rogues
Recurring Rogues
Alternate Reality/Inter-dimensional Rogues
Mobsters and Plainclothes Criminals
Corrupt cops and government officials
Allies/Rivals
Possible Future Rogues
Mary Michaels
Stuart Lowe
Groups
The League of Assassins
Foes of Lesser Renown
Gallery
Community content is available under
CC-BY-SA
unless otherwise noted.