Welcome to the Batman Wiki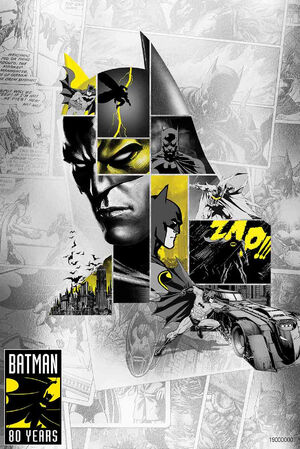 Batman Wiki is a collaborative encyclopedia for everything related to Batman -- including the comics, video games, television shows, movies, toys, and books.
Created by artist Bob Kane and writer Bill Finger, Batman first appeared in Detective Comics #27 (1939) and is the secret identity of Bruce Wayne, who, after witnessing the murder of his parents as a child, trains himself to physical and intellectual perfection and dons a bat-themed costume in order to fight crime.
The classic iteration of the character operates in the Batcave, located beneath Wayne Manor, and is assisted by various other allies, referred to as the Batman Family. The character would go on to become one of the most popular characters from DC Comics, and a cultural icon.
Characters commonly associated with Batman have become the protagonists of their own comics, movies, television series, and other media, such as The Joker, Robin, Catwoman, Batgirl, and Batwoman.
Heroes and Allies
Villains
Related Wikis
DC Comics • DC Animated Universe • DC Movies • Super Friends • Dick Grayson • Cassandra Cain • Stephanie Brown • Gotham Knights Wiki • Arkham Wiki • 1960s Batman Wiki • Batman Fanon Wiki • BTAS Wiki • Batman Anthology Wiki • Gotham Wiki • Golden Age Comics Wiki • Marvel Comics • Christopher Nolan Wiki • Tim Burton Wiki
Superman • Wonder Woman • Green Lantern • The Flash • Aquaman • Green Arrow • Shazam!
About Batman Wiki
We are a collaborative encyclopedia about Batman, and our wiki format allows anyone to create or edit any article, so we can all work together to create a comprehensive database for Batman fans. Please read our Manual of Style and Policies before contributing.
We also have a place to talk about Batman in our Discussions. Whether you are here to start editing or to chat with fellow users, you are welcome to sign up for an account!
Ongoing / Upcoming
The following are current or upcoming media involving Batman and/or related characters:
Ongoing Comics Series
Limited Comic Series
Films
Television series
Audio series
Video games