Batman
's second and first major hi-tech
Batmobile
. It was later phased out in favor of a
sleek two passenger coupe
.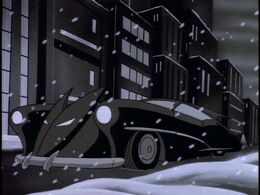 Designed, created and maintained by Earl Cooper and his daughter, this Batmobile was created when Batman turned to Earl after his first Batmobile became run down. Featuring all kinds of intricate details such as a turbine jet, grappling hook that deploys from the front, ejecting driver and passenger seats, on-board navigation and computer with video uplink, oil spillers and spiked wheels that deploy to do damage to an offender's car, the Batmobile is not only nice to look at but also deadly to go up against.
Among the features were: smoke and oil dispensers, wheel slasher hubs, a missile rack, tear gas dispensers, ejection seats, titanium alloy wheels and body panels, and reversible jet exhausts. It also had a "shield" mode to prevent people from tampering when the car when it was left unattended, disguising the car as a alley dumpster.
Appearances
Edit
Animation
Edit
Video games
Edit
Behind the Scenes
Edit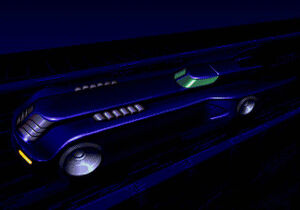 The Batmobile was designed by series vehicle designer Shayne Poindexter. It was inspired by elements from the the car in current movies of the time, at the studios insistence.
The same year Batman Returns, was released, the series also followed the "Dark Knight" style of Batman. Aesthetically it also combined designs from pre World War II New York City with modern components like jet propulsion and computers, which is reflected in the car's design.
Publications
Edit
The book Batman: The Ultimate Guide to The Dark Knight classifies this Batmobile as Batmobile #5, Type- Drag Racer.
This Batmobile was also heavily featured in The Batman Handbook, a complete guide for anyone curious about the real-world applications of Batman's training. Highlights from the book include a complete "How to Bulletproof your Batmobile," "Essential Extras for your Vigilante Vehicle" (including ceramic fractal armor, self-destruct mechanism, and grapnel placement), and driving techniques like how to drive on two wheels and how to jump a bridge.
As this was an animated car, and engineering concepts did not have to be taken into account, this Batmobile had numerous gadgets that would not fit into a real car. Despite the obvious presence of the jet exhaust, the show frequently used sound effects from a reciprocating engine for the Batmobile's driving scenes. This, plus direct views of the engine (as seen in the episode The Mechanic), suggest that the car uses a large piston engine for primary power, and an auxiliary jet for high-speed acceleration.
Community content is available under
CC-BY-SA
unless otherwise noted.