In the animated series The Batman, the Batmobile resembled a sports coupe with multiple jet exhaust slits protruding from the back bumper. When the first Batmobile wasn't fast enough to stop the speed demon Gearhead (and also not able to be repaired after a massive accident), Batman upgraded his wheels with both a much faster engine and a far lighter chassis. With more speed behind him, Gearhead was no match for The Batman.
History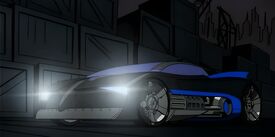 This first incarnation of the Batmobile to appear on The Batman sported a very fast engine and turbo booster system. While it was Batman's main transportation for half a decade of his career, it was replaced by a second generation Batmobile in order to combat the high speed criminals he was facing.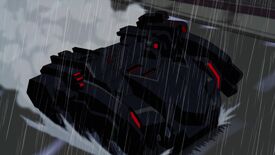 In the third season episode "RPM", this Batmobile was wrecked beyond repair, and Batman completed a prototype design that included a Wayne Industries 'EXP' power generator. This Batmobile was longer and had a lower profile with only one triangular jet exhaust coming from the rear of the car. At the end of the episode, Batman remarks that due to the Batmobile EXP's success, it is a "keeper". In the fourth season, the episode Artifacts explores Gotham City in the year 2027, complete with a new tank-like Batmobile reminiscent of Frank Miller's design for the Riot Tank Batmobile in his 1986 Dark Knight series and the Tumbler from Batman Begins.