A
Batmobile Communicator
was used by
Batman
to signal voice commands to the
Batmobile
while in auto pilot. It has various buttons and a slide out microphone section for the voice command functionality.
History
Batman's first known use of the device was when he abandoned the Batmobile just after the road had been blocked by a massive front-end loader. After helping Vicki Vale out of the cockpit, he pulled this communicator from his utility belt giving the "Shields" command as they ran toward an alleyway.
Shortly after defeating various Joker Goons, he drew the device from the back of his belt once again, issuing the "Shields open" command. Batman called the Batmobile to meet them at a nearby street corner where Batman stood in the middle of the road waiting for its arrival. While Vale waited on the sidewalk, she shrieked in fear as the car sped dangerously close toward the Dark Knight. Batman stood motionless in the street, uttering the "Stop" command in complete confidence in the superior performance of his technology. Perfectly timed, the car stopped on a dime, the front turbine stopping inches away from his waist.
Batman used the device to send the car into the heart of the factory to drop an explosive. After shielding the Batmobile for the initial blast he sent the car out of the facility, as a chain reaction of explosions began.
While Batman shielded the Batmobile with his communicator, Knifethrower Dame hid around the corner to record the signal emitted from it with her own device. After Batman abandoned the vehicle to find the Ice Princess, the Knifethrower and the rest the Red Triangle Circus Gang emerged from the shadows to tamper with the Batmobile. After installing a Beacon Rod to the bottom of the car, she activated the shield once again to make it appear as they found it. Batman returned and deactivated the shield with his communicator as usual, but found himself locked-in, unable to control the vehicle.
Behind the Scenes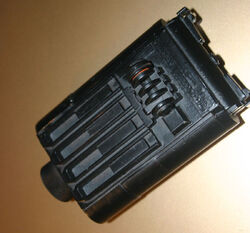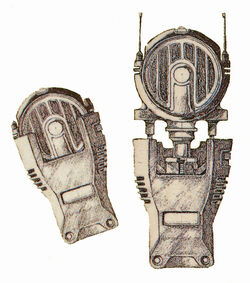 The prop built by John Evans' prop department differed greatly from Julian Caldow's original conceptual illustrations, which was a much sleeker and complicated looking device, with a pair of telescopic antennas.
Trivia
Hot Toys attempted to include communicators with their Keaton figures, but look completely different than the actual prop, apparently unable to locate reference photos much like their Napalm Capsules.
Gallery
Community content is available under
CC-BY-SA
unless otherwise noted.