History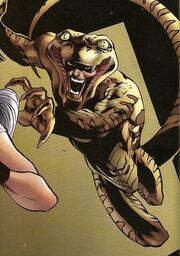 The criminal known as Copperhead first appeared in Gotham City in a snake costume. He committed numerous thefts before finally being apprehended by Batman and the first Batgirl. Copperhead then turned to more deadly pursuits as a super-assassin, constricting victims to a suffocating death with his costume's tail. During this time, he would become obsessive about his target and think of nothing until the target was dead, which proved to be a weakness at times as he would ignore anything he did not consider immediately relevant. Copperhead used the travel opportunities his freelance career afforded him to pursue his hobby of collecting transistor radios.
Although a master contortionist, Copperhead was largely powerless without his snakeskin costume. He later sold his soul to the demon Neron in exchange for more power, being transformed into a deadly Snake/Man hybrid. He was later killed by Manhunter (Kate Spencer).
Copperhead was laid to rest in the Hall of Justice morgue.
Teen Titans #56 featured a team of villains called the "Terror Titans", legacy villains whose mantles are inherited from older villains. One of the members shown is identified as a second Copperhead and appears visually as the character prior to the deal with Neron. The story did not reveal any information about the character or provide context with regard to previous stories.
Powers and Abilities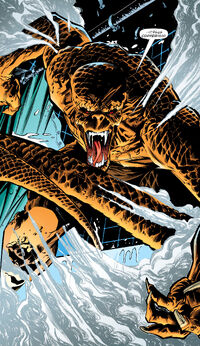 Copperhead's contortionist skills allow him to fit himself into incredibly small spaces (such as chimneys). He originally wore a snake-themed costume. The suit was a weave of metallic and elastic fibers, with the vulnerable points (such as the chest) protected with Kevlar, making it bulletproof and impenetrable to almost any cutting edged weapon. The costume had been treated with a highly slippery water- and heat-proof silicon gel, allowing Copperhead to slide along any surface and slip out of tight spots. The tail could be stretched several feet and was strong enough to snap bone and shatter stone. The suit's helmet contained two seven-inch-long fangs which were capable of piercing human skin, and were coated in a potent neurotoxin derived from copperhead snakes. The toxin could paralyze a person almost instantly, and death would follow within 30 minutes.
Later, Copperhead sold his soul to the demon Neron and was transformed into a human-snake hybrid. His reflexes and agility were greatly increased, and he gained venomous fangs, a forked tongue, claws, and a prehensile tail.
In "Terror Titans", Clock King mentions that Copperhead does not have any superpowers. As with the appearance "Terror Titan", how this relates to Copperhead's previous appearances is not explained.
In other media
Justice League
See Also
Community content is available under
CC-BY-SA
unless otherwise noted.