"Gentlemen! Let's broaden our minds."
―The Joker to his Goons
The Flugelheim Museum was Gotham City's most prestigious art gallery.
History
That was the location where the Joker had arranged a meeting with Vicki Vale and also where the first encounter between Batman and the newly 'reborn' Joker occurred. The Joker caused the deaths of many innocent people there and did serious damage to the paintings.
Behind the Scenes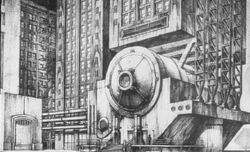 Designing the Flugelheim
"All the buildings, except the cathedral, are dwarfed by the geometric savagery of the Flugelheim Museum whose brutal exterior is more akin to locomotive design than an art gallery like the Guggenheim"
―Anton Furst
Furst was insistent that his draftsman, Nigel Phelps, include the architectural designs of Shin Takamatsu in his conceptual drawings, much like the Monarch Theatre.
Trivia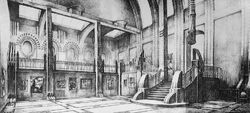 As Vicki waited in the museum cafeteria, you could see "Fluegelheim Museum" was printed on the menu on her table. But when she escaped with Batman, the sign at the front entrance of the building said "Flugelheim Museum".
The handwriting on the note that accompanied the gas mask that was given to Vicki was that of Director Tim Burton.
The inspiration for the name obviously came from New York's Guggenheim Museum.
The Flugelheim Art Museum appears in LEGO Batman: The Videogame (for the level "The Joker's Masterpiece") as the "Gotham Art Gallery".
The famous portrait of Rembrandt hanging in the museum was vandalized during the Joker's museum rampage by the Tall Joker Goon with paint hand prints. In the next scene, the prints were gone. Then, when the contents of the paint can were splashed on the painting, the prints were back.
In Sam Hamm's Batman II script, Selina Kyle worked as a curator at the Flugelheim Museum.
Gallery
Photos
Behind the scenes
Other