"I see a beautiful city and brilliant people rising from this abyss. I see the lives for which I lay down my life, peaceful, useful, prosperous and happy. I see that I hold a sanctuary in their hearts, and in the hearts of their descendants, generations hence. It is a far, far better thing that I do, than I have ever done; it is a far, far better rest that I go to than I have ever known."
Gotham City is a large metropolitan city in the United States. It serves as the home of billionaire playboy Bruce Wayne, who uses his alter-ego of Batman to protect the city against organized crime. Gotham is the darkest of America's cities, and only rumors of a Batman give it hope.
Overview
The city is a very large, with approximately 12-million people residing on the islands. It is also corrupt and teeming with criminals. The architecture in Gotham City is a mix of different styles, ranging from Art Deco to Modern.
Locales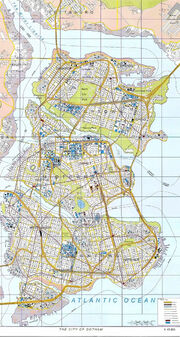 Behind the Scenes
Design
Filming locations
Appearances
Community content is available under
CC-BY-SA
unless otherwise noted.