Happy was an accomplice of The Joker in the robbing of Gotham National Bank.
History
Happy shot and murdered Dopey on the roof of the bank. While attempting to open the safe, Happy was electrocuted by a defense system. After getting back up he placed his shoes on his hands. He was killed himself by Grumpy after opening the safe.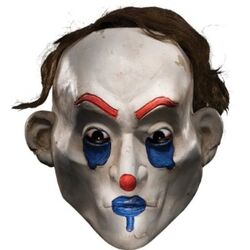 Behind the scenes
Happy takes his name from a character in Disney's Snow White and the Seven Dwarfs.
Appearances
See