The Jokerz are a large street gang of punks 40 years in the future of the DCAU that take their inspiration from the Joker, Batman's onetime archnemesis. They tend to dress in clownish costumes and makeup as did their namesake, but have none of the style or humor of the original. They are based in Gotham City.
Appearances
In the animated series Batman Beyond, Batman battled different versions of the gang on several occasions. In a Justice League Unlimited episode the member Ghoul stated that there are 9,453 active Jokerz that are divided into approximately 200 separate groups (It's unlikely that Chronos affected the large amount considering that he only hired one gang of the Jokerz). There are three known such versions. The first is led by a vandal dressed as the Joker. Those were the Jokerz that Derek Powers' henchman Mr. Fixx incriminated for the murder of Terry McGinnis' father in "Rebirth", the two-part pilot of the animated series. Their leader is J-Man, who dresses in a style similar to the Joker and voiced by DCAU creator Bruce Timm.
A second group of Jokerz appeared in the episode "Hidden Agenda", led by a Jokerz member named Terminal, a top-tier student at Hamilton Hill High and a would-be killer of rival candidate for valedictorian Max Gibson. Max's search to determine who is after her leads her to find out Terry's secret life as Batman.
In the direct-to-video feature Batman Beyond: Return of the Joker, a third group, including Harley Quinn's twin granddaughters, was actually led by the revived Joker himself, who was using Tim Drake's body. This third group was defeated, and the host seemingly freed from the Joker's influence.
The last appearance of the Jokerz was in the Justice League Unlimited episode "The Once and Future Thing, Part 2." In this episode, the group of Jokerz from Return of the Joker are shown to be working for a time-traveling villain called David Clinton, known in the comics as the Atom's archnemesis, Chronos. This team of Jokerz has been enhanced with super-powers and/or cybernetic enhancements that Clinton pulled from the future, and Bonk, who was murdered by the Joker in Return of the Joker, is part of the group. This group of Jokerz has killed most of the Justice League of that time, leaving only Static, Warhawk, that timeline's Batman, and an elderly Bruce Wayne. The present-day Batman, Green Lantern (John Stewart) and Wonder Woman chase Clinton to this future, and were able stop Clinton and undo the damage he did to the timestream, erasing all of the events of the episode
Members
Band I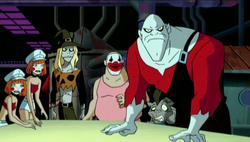 Band II
Band III
Alternate Continuities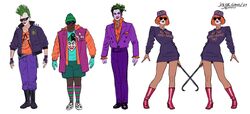 Trivia
References