Lois Lane primarily appears in Superman stories but has encountered Batman, his allies and his enemies on numerous occasions. She is a top investigative reporter and journalist in Metropolis for the Daily Planet.
History
Main article: Lois Lane on the Superman Wiki
Lois Lane is the World renowned Pulitzer Prize-winning journalist and the primary love interest of Superman, also the best friend of Bruce Wayne (for fifteen years in DC Comics continuity, she was also Clark's wife before the New 52 reboot until Rebirth re-established their relationship). Like Superman's alter ego Clark Kent, she is a reporter for the Metropolis newspaper, the Daily Planet working alongside Jimmy Olsen and editor-and-chief Perry White.
Lois is the daughter of four-star General Samuel Lane and Ella Lane, she is also the older sister of Lucy Lane. Lois was brought up as an army brat by her father who taught her intensive military combat training as he would've done with a son (which he had wanted instead of the two girls who he raised quite harshly as a means to toughen them). The experience left a bitter taste in her, as she believed she had to struggle against men to get her rightful share.
Her traits and skills actually served a purpose as Lois would use them through her life as she would go on to make a name for herself as the best investigative reporter and multiple Pulitzer Prize-winning journalist in Metropolis by her no-say attitude as well as her persistence to get to the story even if might put her in trouble, fortunately for her Superman is there to save her as are other heroes such as (Batman, Wonder Woman The Justice League, Birds of Prey etc. should Superman be off-world or detained elsewhere). Lois is no damsel-in-distress and she has shown to be more than capable of holding her own even providing assistance to the Heroes themselves when the situation requires it.
Powers and Abilities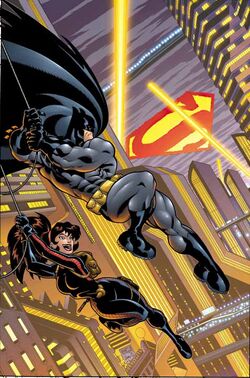 Trivia
In other media
Lois Lane has appeared in every animated series of Superman and as a result, she encountered Batman/Bruce Wayne in the episodes that he's been featured or guest star.
Gallery
Links