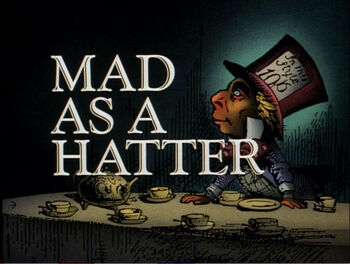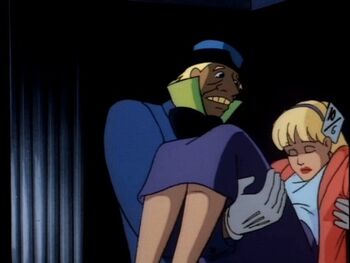 "Mad as a Hatter" is the 24th episode of Batman: The Animated Series. It first aired on October 12, 1992.
Plot
Jervis Tetch was a meek scientist experimenting with mind control equipment, who had a romantic interest in his co-worker Alice. He was frustrated upon hearing that she had a boyfriend. But when news reached him that their relationship had sunk, he made it his top priority to impress her (with a little help from his mind control chips.) He dressed up as the Mad Hatter character from his favorite story book, Alice in Wonderland, and set up with a bunch of flowers, ready to make his move. Alice was charmed by Jervis, but misinterpreted his gesture as one to cheer her up. Alice mended her relationship and got back together with her lost love (much to Tetch's disapproval.) His attempts at impressing Alice involved him brainwashing people to pretend that he was a "man about town" or "a celebrity." This brought him to the attention of Batman. When Batman confronted two hooligans that Jervis had mind controlled and told to "jump off a bridge or something!", Batman stopped the two from committing suicide and noticed that in their hats were 10/6 labels.
These "labels" were mind control chips; the Dark Knight suddenly remembered seeing a picture of the Mad Hatter in which his hat was labeled in the same way. He saw it in the office of Jervis Tetch. Jervis, now calling himself the Mad Hatter, had brainwashed Alice and kidnapped her. Batman is soon on his trail where he encounters the Mad Hatter at an amusement park with an Alice in Wonderland section, he has brainwashed people to dress up as Wonderland characters and kill Batman. Batman releases them from the maniac's spell and confronts the Mad Hatter. Armed with an axe, the Hatter attempted to fight him, but a huge ornament of the Jabberwock fell down upon him (when Batman threw a batarang at the string of the model.) Alice is freed from the Hatter's spell and rejoins her sweetheart. The Hatter, trapped under the Jabberwock model, quotes Alice in Wonderland with all the sadness of the Mock Turtle.
Cast
Credits
Written by Paul Dini
Directed by Frank Paur
Music by Shirley Walker
Animation Services by Akom Production Co.
Community content is available under
CC-BY-SA
unless otherwise noted.