The Monarch Theatre was a theatre building that was located in Gotham City near Gotham Square.
It was perhaps best known for the last location that Thomas and Martha Wayne were seen alive in public before their deaths in the alley at Pearl and Phillips Streets, behind the theatre.
History
One night, the Wayne family visited the Monarch Theatre to see Footlight Frenzy. After they left the theater, Thomas and Martha were murdered by Jack Napier.
Legacy
While originally named after the Monarch Playing Card Company; a name of the factory which contributed to Joker's birth in 1951, and was used to contribute to the nature of Batman and the Joker who were mirror images of each other for the film, the theatre became a prominent part of Batman's origin mythos for the comics and the games.
Behind the Scenes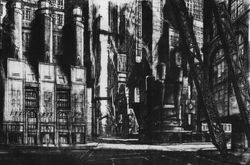 Background information and notes
The design of the theatre was intended to be a dark hulk of a building that squashed any homeliness that otherwise might have been instilled by the surrounding pawnbrokers, snackbars and drugstores.
Prior to the film, the movie theatre visited by the Waynes on the night of their murder had been unnamed. In subsequent stories, the Monarch Theatre has been used as the name for the location and it has served much larger roles.
Trivia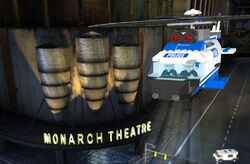 The Gotham Globe headline that told of the murders of Thomas and Martha Wayne was dated Thursday, October 26, and likely placed the date of their murders on Wednesday, October 25.
The Theatre appears briefly in LEGO Batman: The Videogame as part of the level "Two-Face Chase".
Gallery
Screencaps
Photos