This Article is Under Construction

or is currently in the middle of an expansion or major revamping.
The Stacked Deck is a bar and pool hall located Gotham City. Depending on the writer, it is located either in Otisburg, Park Row or the Gotham Harbor. It was regularly visited by members of the criminal underworld, including the Joker and Catwoman. Batman himself also visits the Stacked Deck, usually in disguise.
History
| | |
| --- | --- |
| | This section is a stub. You can help the Batman wiki by expanding it. |
In Other Media
Video Games
| | |
| --- | --- |
| | This section is a stub. You can help the Batman wiki by expanding it. |
Telltale's Batman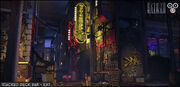 The Stacked Deck appears frequently in Telltale Games' Batman series.
During Batman: The Telltale Series, Bruce Wayne visits it to meet with Selina Kyle during "Children of Arkham". Ambushed by Penguin's men, they enter a bar fight and defeat them, fleeing the scene as the GCPD arrive. The Stacked Deck also appears in "City of Light", where "John Doe" watches a failed attacked on James Gordon's rally on television.
During Batman: The Enemy Within, it is revealed that John has been hosting "therapy" sessions with other patrons at the Stacked Deck, including Willy Deever and Frank Dumfree. Bruce later meets him and Harley Quinn at the bar in "The Pact", hoping to infiltrate the titular organization. During "Fractured Mask", Batman tells John to meet him near the Stacked Deck after acquiring Riddler's Laptop. Should he be successful, they also practice throwing Batarangs in its adjoining alley. In "Same Stitch", it is mentioned that John, now calling himself "the Joker", had recruited members of his gang from patrons of the Stacked Deck.
Community content is available under
CC-BY-SA
unless otherwise noted.