By staging a fake assassination attempt on Commissioner Gordon during the dedication ceremony of the new Amergio Bridge, the villainous Bookworm lures Batman and Robin to Police Headquarters; meanwhile, his moll, Lydia Limpet, plants a book-bomb in the Batmobile. Discovering that Gordon is in fact alive, Batman is alerted to the threat by the Batmobile Bomb Detector, and manages to use the vehicle's Radiocontrolled Ejector Button to propel the device into the air where it explodes harmlessly. Finding a literary clue in the book-bomb's cover, the Dynamic Duo deduce that the bookish crook is planning to blow up the new bridge. However, the term "blow-up" is a photographic one, as the Bookworm merely projects a huge image of the bridge onto a warehouse wall; Batman and his trusty chum trace the image to a giant projector mounted on top of a nearby bookmobile, and promptly engage the Bookworm and his henchmen, Printer's Devil, Typesetter, and Pressman, in a fight But the villains escape, leaving behind a bound and gagged Lydia inside the bookmobile; our two heroes are suspicious, and so knock out the gorgeous gal with Batgas and then take her back to the Batcave, where they use the Hypermetric Lie-Detector to try and discover the literary loon's plot. However, the clues that Lydia gives them are lies, setting the scene for Bookworm's deadly trap…
For this trap, Robin is tied up within the bell of the clock tower dedicated to Thomas Wayne. If the clock strikes midnight, Robin will be banged to death against the bell twelve times.
Appearances
Edit
Individuals
Edit
Miscellanea
Edit
Cliffhanger text
Edit
HOLY MIDNIGHT!
THE FIRST MINUTE OF A NEW DAY... THE EVERLASTING END FOR ROBIN!
STICK MERCIFUL COTTON INTO YOUR EARS...!
THE DEATH-KNELL SOUNDS TOMORROW... SAME BAT-TIME... SAME BAT-CHANNEL!
Behind the scenes
Edit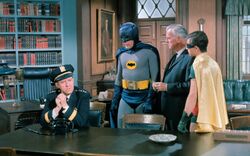 Jerry Lewis appears in the series' first Batclimb cameo.
Bookworms alias "A.S. Scarlett" badge # 1887 is taken from the first Sherlock Holmes Novel "A Study In Scarlett" published in 1887!
A source of anger and rage for Bookworm is that although he speed read books; and plan crimes to the last detail; at heart he is a frustrated novelist who cannot write due to writers block!
Community content is available under
CC-BY-SA
unless otherwise noted.