The Cavalier is a supervillain and introduced as an enemy of Batman.
History
Mortimer Drake was a man of exotic and idiosyncratic taste. He was a playboy and friend of Bruce Wayne's, owning a private museum, in which he places curios. When he found himself unable to purchase more exotic valuables for his collection legally, he resorted to theft. Donning a costume resembling that of a Musketeer, he called himself the Cavalier. His course of actions ultimately brought him into conflict with Batman and Robin. He also utilized an electrified sword and gadgets, which enable him to escape Batman, resurfacing later, where he manages to elude Batman again in his curio-grabbing sprees. Drake continued to match wits against Batman and Robin several times, and escaped them in each encounter, but when the Cavalier was trying to steal an old typewriter and failed, he barely managed to escape his next encounter with Batman, this time defeating himself by egotistically placing a clue to his real identity as Mortimer Drake at the club where Bruce Wayne is a member. Batman was soon able to use this to deduce the Cavalier's identity, leading to Drake's eventual imprisonment.
In his next appearance, Cavalier goes after something worthwhile, robbing a masquerade ball, before trying to make off with Gotham Museum's live whale. Batman succeeded in outfoxing Drake again, and captures him.
The Cavalier was absent in comic books for some time, only next appearing in the 1970's as a member of the jury in the "trial" for the "murder" of the Batman. He also appears, in a big villain gathering in Detective Comics #526, (attempting to harm a woman, which he steadfastly refuses to do - in another story, the gallant rogue stops a caper to help an old lady carry her shopping!)
In Batman Family #10, Batgirl and Batwoman teamed up to defeat the Cavalier. Cavalier couldn't find a way around his code, which prevented hitting females, but after a self-examination he concludes "the devil with gallantry" and hit Batgirl with his fist.
A few issues later in Batman Family #15, Killer Moth bet Cavalier that he could find the way into the Batcave from Batgirl before the Cavalier could get it off of Robin. While Killer Moth was led to a fake cave, the Cavalier was shown a large nest, to which the villain came to the conclusion that Robin was an alien bird life form.
Drake next appeared in WHO'S WHO #3, 1985.
The Cavalier later resurfaced in Justice League Of America #44 as part of a group of supervillain drinking buddies who were trying to regain their lost items of power. Cavalier fared badly, losing his sword to Wally Tortellini in a poker game. He was soon defeated by Blue Beetle who clotheslined him in an alleyway.
In recent years, Cavalier has become insane and is kept in Arkham Asylum. He was freed from the asylum during the "Knightfall" storyline but was quickly recaptured, getting slammed in the face by the Dark Knight's feet and being defeated with ease. (Detective Comics # 661). It remains to be seen how Drake became insane, or if his origin has changed because of the first crisis.
He appears in Justice League of America #2 as an informant for Black Lightning. He is revealed as being in a romantic relationship with fellow supervillain Captain Stingaree. Both rogues fair poorly in a later battle with the Secret Six, during which Stingaree is killed and the Cavalier is broken over Bane's knee. It remains to be seen if he survived his injuries.
Powers and Abilities
The Cavalier has no super human abilities; he is however, an athlete, skilled hand-to-hand combatant,excellent marksman,and master swordsman. His carries a rapier that emits electric blasts. The feather plume on the Cavalier's hat is actually a steel tipped dart.
Other media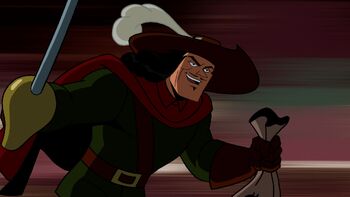 *The Cavalier appeared in the
Batman: The Brave and the Bold
episode "The Eyes of Despero" voiced by
Greg Ellis
. He speaks in
Elizabethan era
style (to which Batman remarks "Somewhere
Shakespeare
is spinning in his grave."). The Dark Knight makes quick work of Cavalier and is then sent to space by
Hal Jordan
's ring.
The Cavalier battled Batman during a brief exchange in the 1994 BBC radio adaptation of Batman: Knightfall. He was one of the escaped Arkham Asylum inmates. After Batman defeats the Cavalier, the foppish rogue cries, "You broke my nose you cad!"
Cavalier also appears in Batman Adventures 01. His portrayal is a cross between Robin Hood and Zorro, in stealing from those he perceives rich and slashing his sword in that person's clothes.