Plot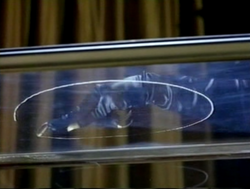 Catwoman steals one of a pair of Mark Andrews' priceless Golden Cat statuettes from a Gotham museum, knowing that it holds a secret to the lost treasure of Captain Manx. Batman and Robin rush off to safeguard the other statue, coating it with golden radioactive mist and then lying in wait for Catwoman to appear. However, the nefarious feline and her two henchmen, Felix and Leo, manage to drug the Boy Wonder, and in the subsequent battle they manage to escape with the second statue. After Robin comes to, he and Batman use the radioactive mist to track Catwoman to her lair at the Gato and Chat Fur Company warehouse; but when they arrive, the Dynamic Duo fall through a trap door and straight into Catwoman's clutches - and are immediately subjected to a host of deadly and devious distractions…a toy bomb that has a "meow" flag; moving spiked walls that have rubber spikes; a vacuum tube that makes Robin "fly" up...and lastly a deadly challenge before Batman..one door leads to Catwoman and other door leads to her pet "Tiger"! Will Batman choose the right door...???
Cliffhanger Text
WILL BATMAN EVER SEE ROBIN ALIVE AGAIN ?
WILL ROBIN EVER SEE BATMAN ALIVE AGAIN ?
WILL OUR DARING DUO ESCAPE THE CLAWS OF THE WILY CATWOMAN ?
THE ANSWER TO THESE AND MANY OTHER TERRIFYING QUESTIONS TOMORROW NIGHT, SAME CAT TIME, SAME CAT CHANNEL !
Appearances
Individuals
Trivia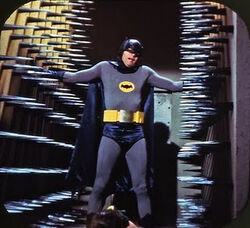 Only appearance of Gordon's secretary Bonnie, played by an uncredited actress. (

In an early draft of the Riddler teaser for "Ring Around the Riddler", Bonnie's desk nameplate was described as being inscribed "Bonnie Patterson".)

Continuity Goof: when the Dynamic duo falls through the trapdoor Robin is on the left and Batman is on the right. But when they fall into Catwoman's lair, Batman is on the left and Robin is on the right.
The spiked wall death trap from the original Columbia serial is referenced but it turns out to not be the cliffhanger, merely a fakeout while Catwoman toys with the dynamic duo.
Community content is available under
CC-BY-SA
unless otherwise noted.