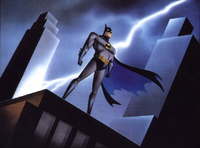 Hello, I'm Mc dark knight 2013.
I've been a fan of DC Comics superheroes since I was a teenager, but Batman is easily my personal favourite. My interest in the Dark Knight and his mythos stems from a variety of factors, including many great stories involving the character, his unique and interesting rogues gallery, and varied interpretations across all forms of media.
I have been active on this wiki since 2016, mainly editing pages on Batman related media. I currently am a Co-Administrator here.
Favourite Things about Batman
Favourite Heroes (that are not Bruce Wayne/Batman): Tim Drake & Barbara Gordon
Favourite Supporting Characters: James Gordon, Alfred Pennyworth & Vicki Vale
Favourite Villains: The Joker, Catwoman, The Penguin, Two-Face, The Riddler, Scarecrow, Mr. Freeze, Poison Ivy & Ra's al Ghul
Favourite Comic Stories: The Dark Knight Returns, Batman: The Killing Joke, Batman: Prey & Batman: The Court of Owls
Favourite Batman outside Comics: Batman (DC Animated Universe)
Favourite Batman Actors: Michael Keaton (Live-Action) & Kevin Conroy (Voice)
Favourite Batman Films: Batman (1989), Batman: Mask of the Phantasm & The Dark Knight
Favourite Villain in Film: The Joker (Heath Ledger)
Favourite Batman TV Series: Batman: The Animated Series
Favourite Batman Video Games: Batman: Arkham Asylum & Batman: The Enemy Within
Community content is available under
CC-BY-SA
unless otherwise noted.