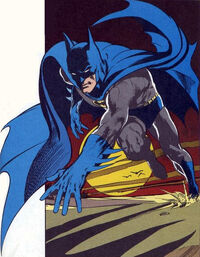 Hi, welcome to the wiki! Thanks for your contributions.
Here's a wiki tip for you -- you can sign your name on discussion pages by typing ~~~~ which automatically adds your signature and the date.
Check out the Help category for more tricks.
Please leave a message on my talk page if I can help with anything! -Doomlurker.
DC Icon Book Trailers
Edit
So, I don't know if anyone's done this already, but if not, then could you please upload these two trailers onto the pages?
https://www.youtube.com/watch?v=AJUB9nbOxc0
https://www.youtube.com/watch?v=jCN2kXgEpM8
Thank you.
(124.197.12.116 01:46, August 23, 2019 (UTC))
Henchmen and Henchman
Edit
I've seen your edits to the pages and they're good, but you keep adding "henchmen" for an individual person in Known Associates such as the Killer Moth (Dozierverse) page. It should be "henchman" for a individual person and "henchmen" for a group of people. Could you please stop doing it because I don't like constantly having to change it. DisneyFan18111928 (talk) 03:07, September 7, 2019 (UTC)
Community content is available under
CC-BY-SA
unless otherwise noted.