Val Kilmer portrayed Batman in Joel Schumacher's Batman Forever.
Characters portrayed by Val Kilmer in the Batman Universe
Batman history
In December 1993, Batman Forever director Joel Schumacher had seen Tombstone and was most impressed with Kilmer's performance. Schumacher felt him to be perfect for Batman, though at the time, the role was still Michael Keaton's.[1]
In July 1994, Keaton decided not to return for a third Batman film after 1992's Batman Returns,[2] due to "creative differences."[1] William Baldwin (who previously worked with Schumacher on Flatliners) was reported to be a top contender, though just days after Keaton dropped out, Kilmer was cast.[2] Kilmer took the role without even knowing who the new director was and without reading the script.[1]
Released in June 1995, Batman Forever was a success at the box office, despite receiving mixed reviews from critics. There was debate about the performance of Kilmer; some critics charged that Kilmer, while physically fit to play Batman, more so than Keaton had been, gave a wooden performance as Bruce Wayne. Other critics, such as Roger Ebert, had kinder words for Kilmer.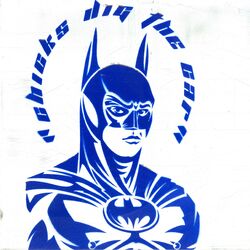 Film critic Leonard Maltin (who heavily criticized the dark tone contained in Batman Returns) complimented Kilmer's portrayal when he reviewed the film as well as being very favorable of Batman Forever as a whole. Defenders of Batman Forever praised the film for portraying Batman as a more heroic, less ruthless, and more human character than in the Tim Burton films. The film also brought the film interpretation of Bruce Wayne more into line with his comic book counterpart, showing him as a seasoned celebrity of the media and a very public figure rather than the neurotic recluse of the two previous films.
In February 1996, Kilmer's publicist claimed that he decided not to return for another Batman feature film, feeling that Batman was being marginalized in favor of the villains.[3] It seems his negotiations did not work in his favor, with Schumacher claiming to have fired him at different times due to his unreasonable demands and on-set behavior. Kilmer went on to do The Saint with a salary of $6 million.[3] George Clooney replaced Kilmer as Batman in 1997's Batman & Robin.
Collaborations
Links
References
↑ 1.0 1.1 1.2 Nathan, Ian (August 1995). "Hold me, thrill me, kiss me, Kilmer", Empire, pp. 108–117. Retrieved on November 20, 2007November 20, 2007.

 

↑ 2.0 2.1 Gordinier, Jeff (July 15, 1994). "Next At Batman", Entertainment Weekly. Retrieved on October 14, 2007October 14, 2007.

 

↑ 3.0 3.1 "A Tights Squeeze", Entertainment Weekly (March 8, 1996). Retrieved on September 17, 2007September 17, 2007.